In feature 006 of Creator Behind The Campaign we sat down with Olivia Ter-Berg, to hear about her journey into becoming Social Media Executive for Cineworld. She shares what she gets up to on a typical day, tops tips on creating a killer TikTok strategy, the moment she interviewed Tom Cruise and so much more…
1. Tell us about yourself, what is your current role(s) and what role(s) have you previously done in marketing?
Hi! I am currently the Social Media Executive for Cineworld and I have had a pretty unconventional route into marketing…
It all started with an interview I did with BBC Radio London in lockdown of 2020. I had just moved back to the UK after living for 8 months in Vietnam teaching English and playing the harp with the Vietnam National Symphony Orchestra. I was sitting at home and didn't know what to do with my time.
I decided, instead of sitting around being bored in the house I would do something that would make myself and other people happy… street concerts! I studied music at University and have been playing the harp for nearly 20 years so it seemed like the perfect use of time!
For 8 weeks every Monday I played the harp outside my house and took song requests from my neighbours. Little did I know that at the same time the lovely BBC journalist Ross Ryan would be cycling past my house. The next thing I knew, I had a BBC interview with over 30k views about my concerts! I decided to start posting about the concerts on Instagram and TikTok and taught myself about how social media works.
My personal account focuses on how the harp can be used in pop music. 200k followers, a Bumble advert, many brand deals and amazing friends later, here I am working as Cineworld's Social Media Exec!
Of course, previously I had an interest in marketing, but I wasn't sure where to begin. For me, social media paved the way!
2. Can you share with us a typical day in the life of Cineworld's Social Media Executive?
I know this is the classic answer but no day is the same. It's a very creative role which is the great thing about it. My day to day responsibilities include organising influencer events at various Cineworld locations, working with influencers, interviewing the cast for upcoming films, coming up with filming and editing TikToks and keeping the Cineworld social channels running. So it is very busy!
3. Within 3 months of launching Cineworld on TikTok you reached 100K followers, 1.4 millions likes and over 11 million views.
What tips would you give to someone on creating a killer TikTok strategy?
We're nearly at 150K now which is super exciting! I find this is an interesting question because I think that a lot of people focus on numbers and of course big numbers are hugely important! But because I was a TikTok creator for over a year before, my strategy is to focus on the content. If your content is good enough the numbers will come.
I think when creating a TikTok strategy make sure to have fun with it and be consistent. Find something that makes your brand stand out. Every brand has something unique about them, really hone in on this and let it help you to form your TikTok page.
4. What advice would you give other content creators/ marketers on growing their brand's TikTok?
I think that anyone who is running a brand needs to have explored the TikTok app themselves, whether this be as a creator or a user. I have a personal TikTok account of just under 200k so I was quite aware of how the app worked before working for Cineworld. I also think brands need to take a chance on young people in who have grown up with social media as it is a big part of our lives and we know what people want to see.
One of TikTok's brand tag lines is 'Don't make ads. Make TikToks'. I think this is so important, and the best way to achieve this is to figure out what works for your brand and always have this tagline in in mind.
BE YOURSELF! (whilst sticking to your brand's tone of voice of course). A TikTok page is a representation of a brand's sense of humour but also the sense of humour of the person running the account. Keep it consistent and as natural as possible. If your organic content is good enough, your channel will grow on its own.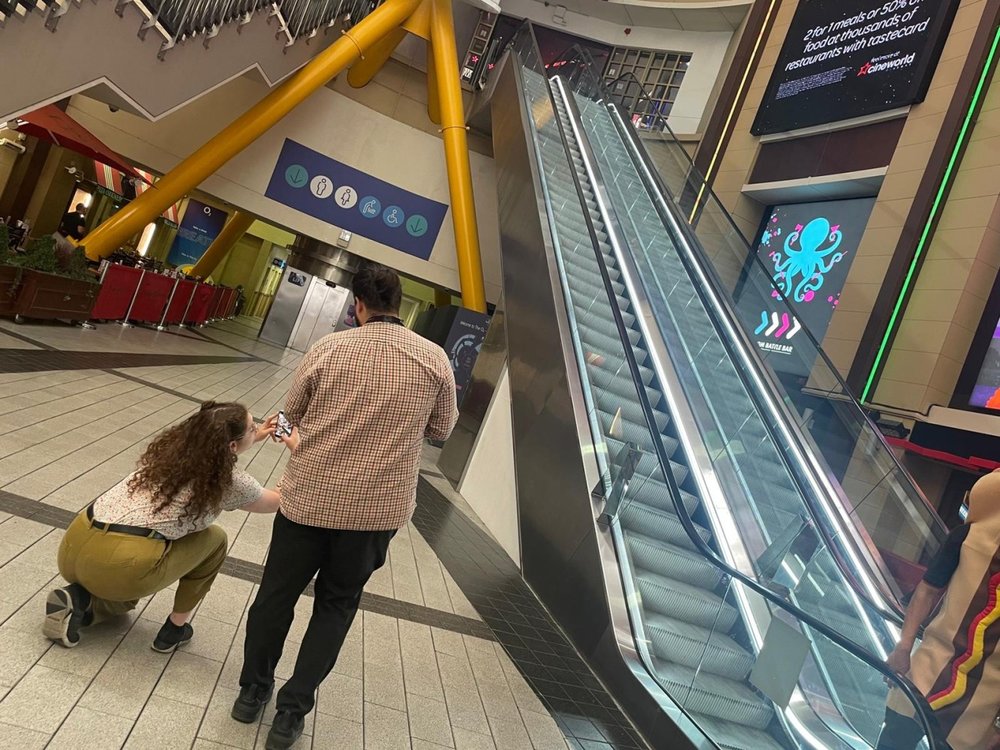 5. You started your first job in marketing 6 months ago and it led you to interviewing Tom Cruise at the TopGun Maverick Premier.
Can you explain how this moment felt and who else would you love to interview at a red carpet?
This moment honestly was unreal. I wish I could go to my teenage self and tell her that I would be doing this. I definitely wouldn't have believed it! I love interviewing the cast for films, it's my favourite part of my role. Every interview is so unique and it's really exciting coming up with interesting ways to interview. I mean it doesn't get much bigger than Tom Cruise, and I love Top Gun so that was pretty cool!
I also got the chance to interview Brad Pitt last week which I think I was even more excited about!
My favourite characters in any film are strong female characters so I would love to interview Jodie Comer or Meryl Streep as they have played some amazing female characters.
6. If you could share one piece of advice, what would you say to someone looking to start a career in Social Media?
I love this question! My advice would be to get posting. Try each platform out for yourself, the best way to get to know social media is to be a user, not just through scrolling (which is helpful in itself) but really get to know the platforms by posting your own content.
If you don't feel confident posting your face online (which is 100% valid!) there are many exciting ways to post on social without showing yourself. Many artists, musicians, chefs and other categories have successful accounts without appearing in videos and images themselves.
It also doesn't matter what your follower count is, just focus on trying to understand the platforms' algorithms and having fun!
7. Where can our community follow and engage with Cineworld and yourself on social media?
My personal account can be found: @Olivia_harpist on TikTok/ Instagram/ YouTube.
Cineworld's accounts can be found: @Cineworld on all channels.

Thank you for reading our sixth feature of Creator Behind The Campaign. Make sure you're following Because of Marketing on LinkedIn, Instagram and TikTok for all the latest marketing campaigns.