In feature 011 we sat down with Dan Knowlton, Co-Founder and CMO of Knowlton, a video and social media agency which produces 'Advertainment' campaigns and are focused on having a positive impact on the world.
Dan shares with us what a typical day in the life looks like as Co-Founder and CMO, the important marketing trends businesses need to focus on in 2023, marketing lessons he has learnt through his experience and advice he'd give to anyone starting a career in marketing.
1. Tell us about yourself, what is your current role(s) and what role(s) have you previously done in marketing?
I'm co-founder & CMO of Knowlton which is a creative video & social media marketing agency which is focused on having a positive impact on the world. We've always hated crap, intrusive, over-salesy marketing, which started us on a mission to rid the world of crap marketing.
We started doing this by producing 'Advertainment' campaigns which integrated highly sales-focused messaging into fun-to-watch content. As an Agency, we're known for these 'Advertainment' style campaigns. To go a bit further…the easiest way to explain our marketing mantra is…imagine if your customers actually enjoyed the process & consuming the content that convinced them to buy your shit. We make that content & run paid social ad campaigns to get it in front of the right people, at the right time, to make them take the action you want them to take.
In 2018, we realised we needed to be better as a business & find ways we could have more of a positive impact outside of the positive impact we were having on our customers & our customers, customers, so we developed our Positive Impact Plan. This is the plan that outlines how we're focused on having a positive impact on the planet, our people, our community & our clients…We were also recently recognised as pioneers in the SME sustainability space which is pretty mental but a testament to our internal 'positive impact crew's' hard work.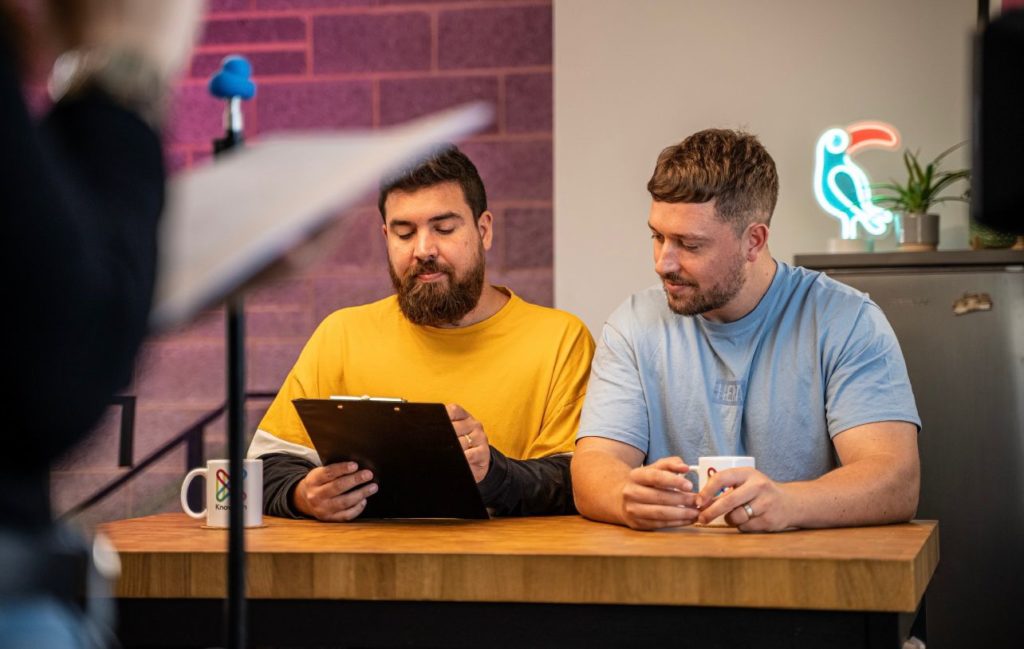 In terms of ex-marketing experience, I went to uni in Brighton, got a 1st but learnt nothing about marketing, I just learnt how to pass an exam. Then I worked at Enterprise-rent-a-car for a year, hated it & quit.
2. You also co-host a podcast called Business Anchors. Can you please share with us what the podcast is about and what was the inspiration behind starting the podcast?
So I'm the co-host of Business Anchors, a weekly podcast where my co-founder (who is also my brother) & I sit down to share insights, stories & lessons we're learning whilst growing our Agency.
We saw a gap in the market because there were lots of amazing educational marketing podcasts, but they were a bit boring to listen to. So…Business Anchors was created.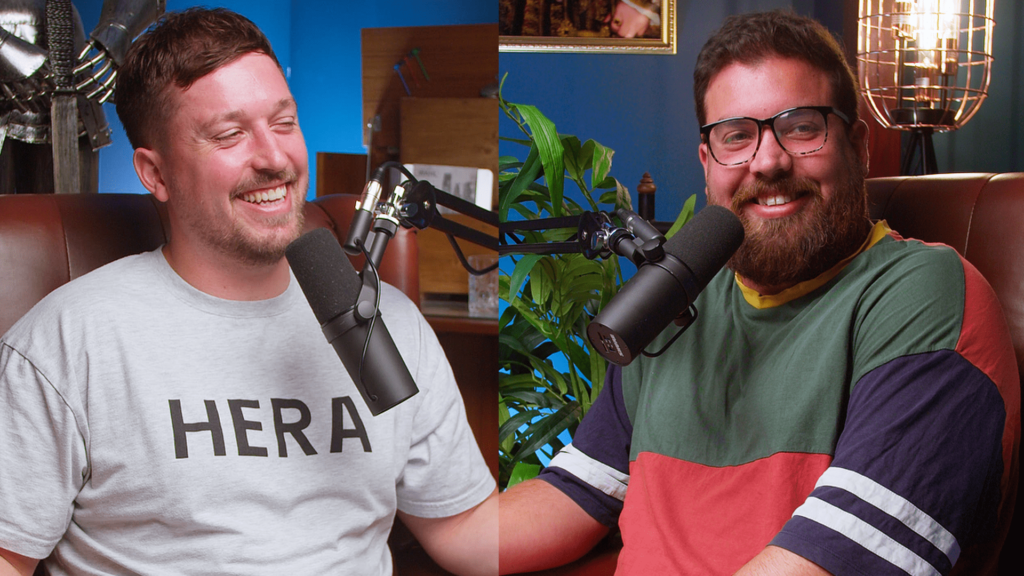 2. Are you able to describe a typical day in your life as a Co-Founder and CMO of Knowlton?
My days are varied but I'll take you through a standard day at the office then give you an idea of other things I do. Wake up at 5:30am (ish) to feed my 7-month year old son, go to the gym, come home, take my 3 year old son to nursery then get to work around 8:45am.
We have a morning meeting with our team at 9:05am, then to be honest, the rest of the day I am mainly at my computer. As I'm responsible for managing all the new business for our Agency, my activities vary between replying to emails 7 following up with prospects, pitching, engaging on social media, posting on my personal socials, having meetings with our Marketing Manager/my co-founder/our production team etc. I leave the office around 5:30pm (ish).
I guess that's a standard day in the office, but I also travel around the world speaking at events, going to events, networking, meeting people, we also create tons of content so I spend time with our team producing that, I also input to creative sessions for clients etc. That was a bit of a brain-vomit, but I hope it gives an insight for you?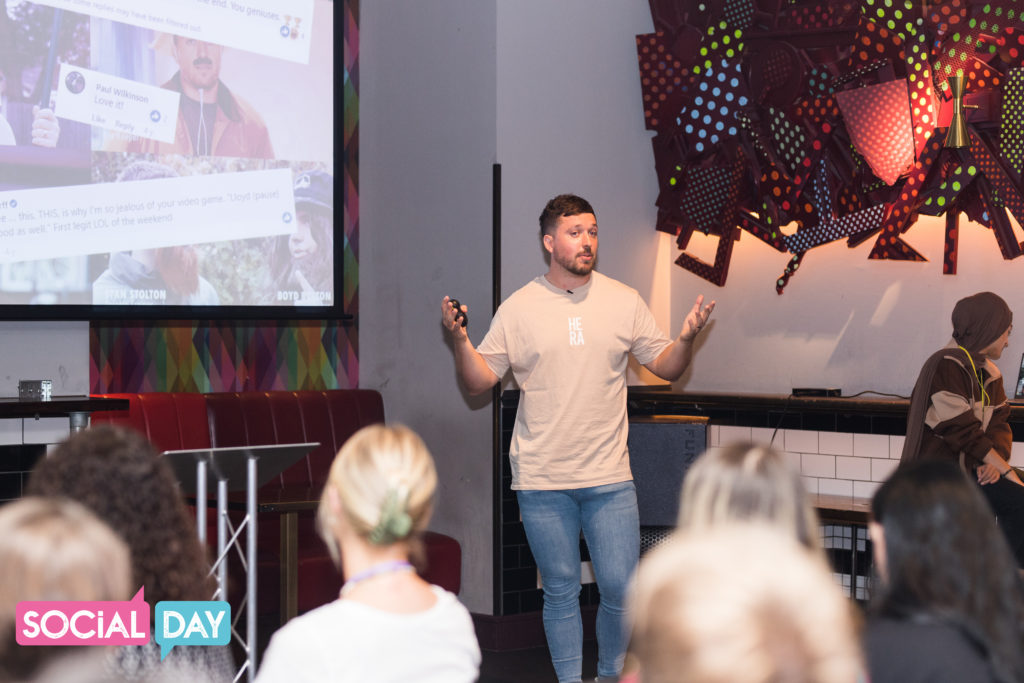 3. Your agency focuses on Video and Social Media Marketing. In 2023, what important marketing trends do you think businesses need to focus on and why?
VERTICAL SHORT FORM VIDEO!!! Social media platforms leave clues…And when every social media platform is leaving the same clue, Marketers should really take note. What's the one clue they are all leaving us? Make vertical videos! Think about it… Instagram has just made every video you post on the platform display as a Reel (vertical video). YouTube is heavily pushing YouTube Shorts (vertical video). TikTok (one of the fastest growing social platforms right now) is a platform solely built for vertical video. LinkedIn is even suggesting advertisers create vertical videos to get better results from their paid ads. The list goes on… We're now operating a 'vertical video first' approach & the data shows that it's the right one. In the last 30 days, this one change we made to our videos has increased views by 507% & watch time by 319%.
We've released a podcast all about vertical video to share how you can implement this approach.
4. Do you have a favourite campaign you have worked on at Knowlton? Can you please walk us through the creative process from brief to campaign results?
Ooh there are a few, below are some of my favourites & I can't go into exact results for each due to NDAs we've signed, but the below campaigns have directly generated £millions in tracked revenue from the content we've created and the social media ads we've run.
In terms of our creative process, we have an initial kick off zoom call (which is usually 1-2 hours) with a client to ask tons of questions to figure out their objectives, problems they solve, objections we need to overcome, brand voice, target markets, creative input, resource, timelines etc. then we have an internal creative session with our team to put concepts together (we use a tool called Milanote which is amazing at visually showing concepts), then we present them to the client, get feedback & tweak them until they are signed off. Then we start all the strategy development, pre production & planning, organising all the logistics to ensure the campaign is delivered effectively. Then we shoot the content, setup the campaign, & make it live when it's signed off. We then do weekly/monthly performance reports using bespoke dashboard software that we've set up using DashThis.
Below are some of my favourite campaigns.
Case Study 1: Wahl x Peaky Blinders
Click here to see the case study.
We've supported Wahl with creative social content production & paid social campaigns & strategy for a number of years now (they have an in-house paid media & content team, this info is based on the work we have done) & the Wahl x Peaky Blinders campaign was one of our most exciting to date.
Case Study 2: Buy Whole Foods Online
Click here to see the case study.
Buy Wholefoods Online is a health food supplier, based in Minster, Ramsgate, North East Kent. They deliver top quality natural and organic wholefoods, and related healthy living products, directly to homes and businesses across the UK.
Case Study 3: Compare & Recycle
Click here to see the case study.
Compare And Recycle is the UK's largest independent mobile phone recycling comparison site. They approached us to produce an eye-catching TV Ad, teamed up with supporting videos & image Ads, optimised for social media.
Case Study 4: STOP 'N' GO (Safety Gloves)
Click here to see the case study.
STOP 'N' GO is a startup that we worked with to create a whole range of video & image content & ran a paid LinkedIn Ad campaign to drive trackable leads from senior decision makers in the health & safety sector.
5. Have you faced any challenges in the video and/or Social Media Marketing space and how do you overcome them?
Yes, lots! Keeping up to speed with the latest changes in the digital/social media space is a big one. For example…when we started our agency 7 years ago, the main platforms we used to drive new business were Facebook & Twitter. Now we barely use those & Linkedin/TikTok & our podcast are our main focus.
6. What are your top marketing lessons you have learnt and would share to someone looking to start their career in marketing?
Get in the trenches! There is no course, degree, or training that will be better than actually setting up your own blog or creating your own website & learning how to SEO-optimsie it or setting up your own social accounts and creating content.
I wish I would have worked in an Agency rather than going to uni. I feel like the real-life experience I would have learned there would have put me way ahead of where I am now. Saying that I loved the life-lessons I learnt at uni. But yeh, just start creating your own thing, you will learn so many lessons about marketing.
7. Where can our community follow and engage with Knowlton, business Anchor podcast and yourself on social media?
Well as you asked…
Knowlton Website
And that's a wrap on the latest feature of Creator Behind The Campaign. Make sure you're following Because of Marketing on LinkedIn, Instagram and TikTok for all the latest marketing campaigns.